Training
Registered® Agile Leader at Scale Training
Our 2-day Registered Agile Leader@Scale course combines the full Agile Leader@Scale class with the insights the trainers have gathered from their extensive experience with Agile from large Danish and European companies. This course is an in-depth presentation and exploration of the Agile Leader@Scale framework, and features a comprehensive curriculum and practical insights from real-world case studies.
During the class you will learn how you, as an agile leader, can achieve the following four key-results:
A healthy organizational structure that allows collaboration to grow
An organization that prioritizes clearly and effectively
An organization that can deliver value continuously and react to feedback
An organization that can and dares to change team compositions so that the team-structure matches market-needs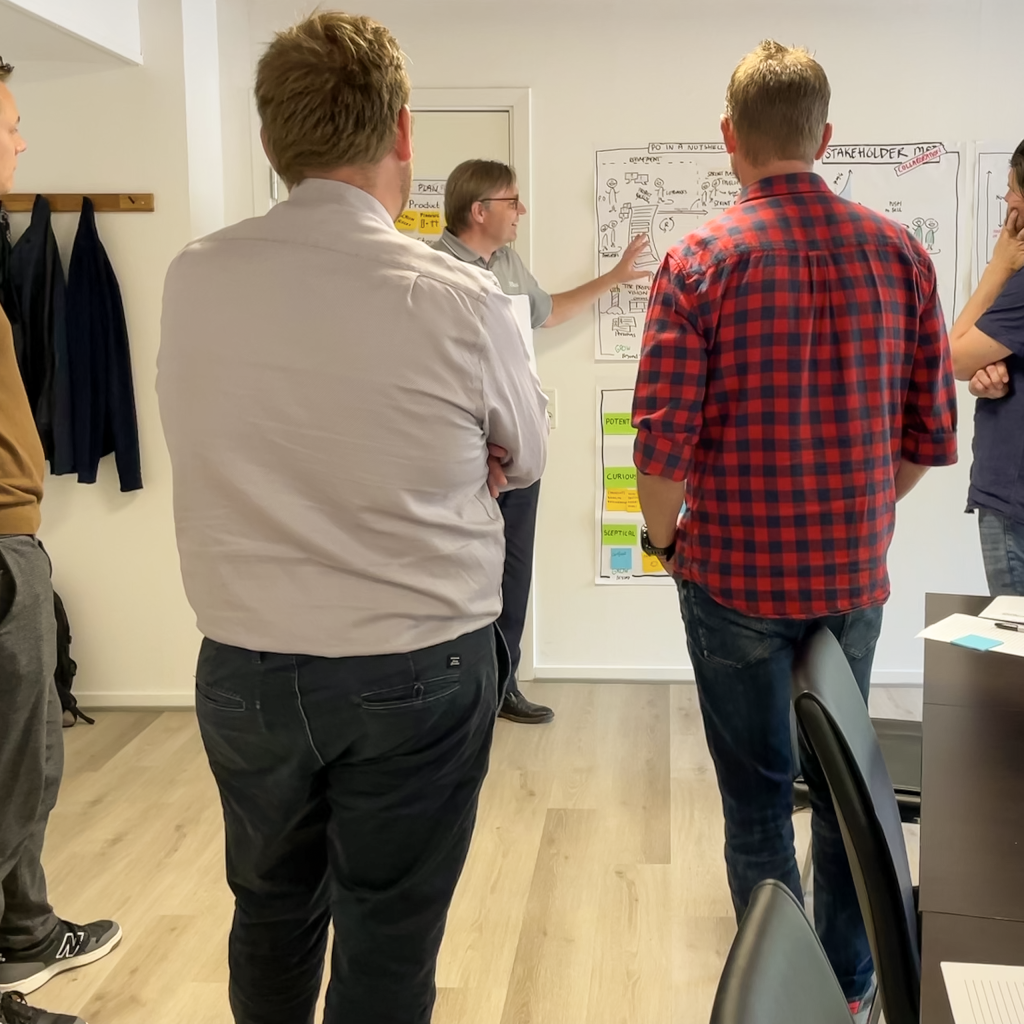 Upcoming Training
When? 5-6 February, 2023.
Where? Aarhus, Denmark.
Price? DKK 12,000 excl. VAT.
Payment? Courses are to be paid in full at least 14 days prior to course start date.
Who Should Attend?
Leaders at all levels who want to increase their knowledge of how to lead a fully agile organization, how to create a better organizational structure, and improve culture, team behavior, and team practices.
Executives and Vice-Presidents
Mid-level Managers
Product and Project Managers
Lean and Management Professionals
Others interested in scaling Scrum across the organization
Prerequisites?
To achieve the most from this course, you should have concrete leadership experience, either from a traditional organization or an agile organization. You should have an ambition to execute better leadership in the future, where you are able to respond to changing business demands faster, and you should aspire to aid the organization in matching market-needs and to create a motivating work environment. Attending this class will provide you with the right instruments to aid you in implementing this in your organization.
About the Credential
Students who complete a 2-Day Registered Agile Leader at Scale class, comprised of at least 14 hours of live instruction time covering all Learning Objectives with a Registered Agile Leader at Scale Trainer, are eligible to earn the Agile Leader at Scale credential. The credential formally recognizes your knowledge of lean principles, agile scaling techniques, patterns of high-performing teams, and how the Agile Leader role scales in an organization. The Registered Agile Leader at Scale credential is endorsed by Jeff Sutherland, co-creator of Scrum and inventor of Scrum at Scale. The Registered Agile Leader at Scale accreditation will make you stand out to employers, stakeholders, and peers.
Learn more about the course and the credential here.
About Your Trainer
Carsten Ruseng Jakobsen is a Registered® Scrum@Scale Trainer and Registered® Scrum Trainer.
Carsten is one of the early Agile and Scrum pioneers in Denmark. His career started with Sun Microsystems in Silicon Valley, and later he returned to Denmark where he joined Systematic in 1998. Since 2006 Carsten has led change management and transformations in organizations to adopt Scrum and Agile values. He has written several articles with Jeff Sutherland, and is a speaker at international Agile conferences. Since 2017, Carsten has worked primarily with larger organizations to drive agile transformations. In most organizations he has done this with Scrum training, Agile workshops, onsite consultancy, and close collaboration with leaders in the organization.