RELEASE PEOPLE
AND PERFORMANCE
We utilize our more than 30 years of experience to help business leaders facilitate successful transformations and lasting change.
WORKSHOPS
Let us inspire your organization in one of our engaging workshops. We utilize our years of practical experience and extensive theoretical knowledge to help you understand where your organization can improve – and how.

Learn more!
TRAINING
Increase your knowledge about modern, agile leadership. Take one of our certified courses on how to become a great Scrum Master or Product Owner, or educate yourself in how to scale agile practices across multiple teams.

Learn more!
IMPLEMENTATION
Get support to create a strategy for the change you need and get on site help to implement it. Engage one of our coaches to be onsite with you on a 2-3 days-a-week basis, to be able to benefit from being supported by someone who has done this before.

Learn more!
NETWORKS
Meet and connect with business leaders from other organizations. Share experiences and practices with leaders from similar organizations who are going through the same process as you in order to harvest synergies of your learnings.

Learn more!
TEAM PERFORMANCE
ACCELERATOR
Have you ever been part of a team that worked extremely well, to a degree where you felt like nothing could stop you? Maybe you were in a sports team, a project team or something similar that had the characteristics of a great team:
High energy and motivation, exceptional problem-solving skills, and a much higher productivity than the average.

As a leader of one or several teams, you might be struggling with getting your teams to deliver to your ambitions, and that is why working with great teams is important. Especially if you want to attract and maintain a super skilled workforce, wish to have a flexible and happy workforce and need people to take responsibility and make fast decisions. Our Team Performance Accelerator © is a 4-week process tailored specifically to your team, to accelerate their journey towards becoming a great team.

Learn more about our Team Performance Accelerator © here!
CASES

The leadership team in the IT infrastructure department at the LEGO Group needed help to facilitate the transformation to becoming agile. The Grow Beyond consultant was on-site coach for two years and helped the leadership team design and implement the change strategy, including reorganizing the team structure and the leadership model.

The PMO at Universal Robotics wanted to improve how they did agile portfolio management. Grow Beyond conducted a series of interviews with stakeholders in the organization and provided an assessment of their current issues as well as suggestions for improvements.




A leadership team in Vestas wanted to understand what it would mean for their department to "be agile" and if agility would help them achieve their new ambitious strategy. Grow Beyond facilitated three Agile Introduction workshops that gave the leadership team a shared understanding of their specific situation. The team made the decision to start a transformation.
OUR PROCESS
OUR UNIQUE APPROACH
There are five ingredients in a successful change:
A clear purpose
An experimental step-by-step approach to implementation
Focus on practical solutions that are tailored to the context, in a process that is supported by just enough theoretical input
People who have done it before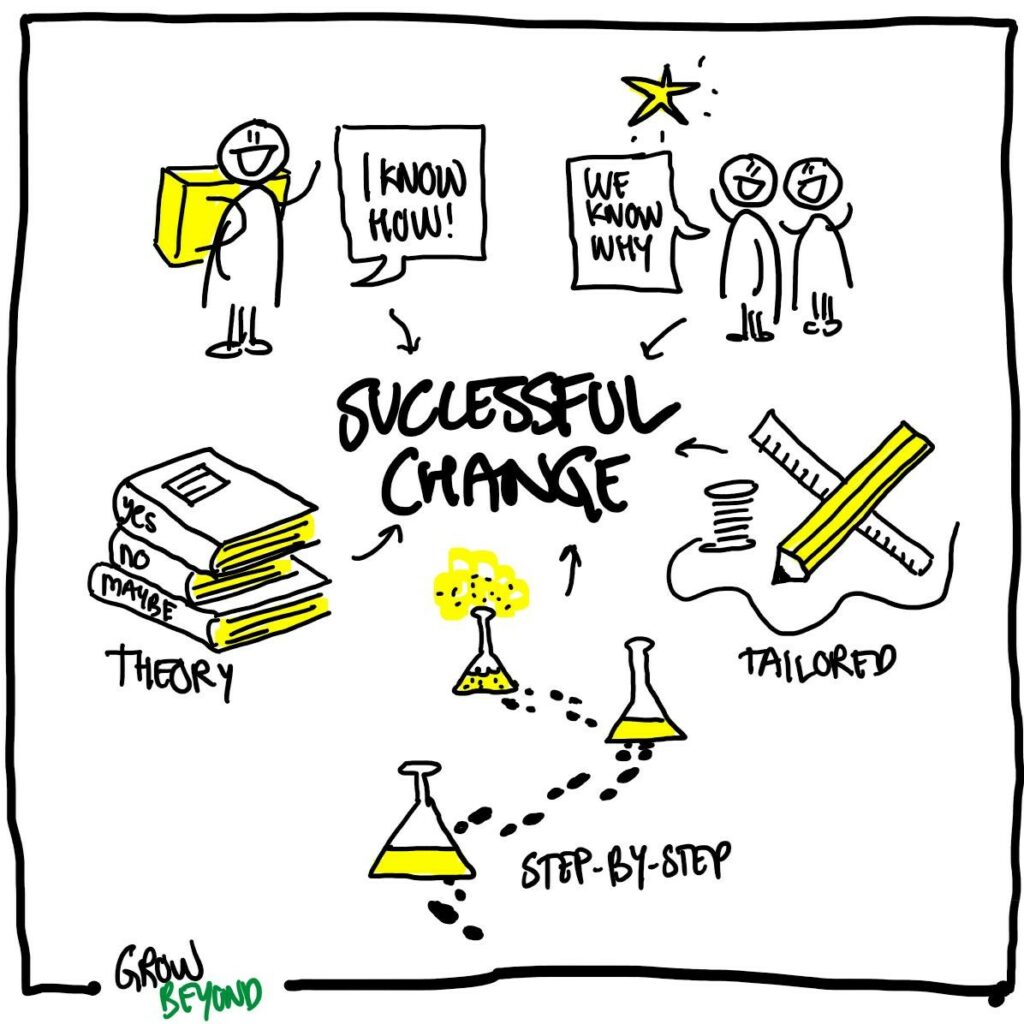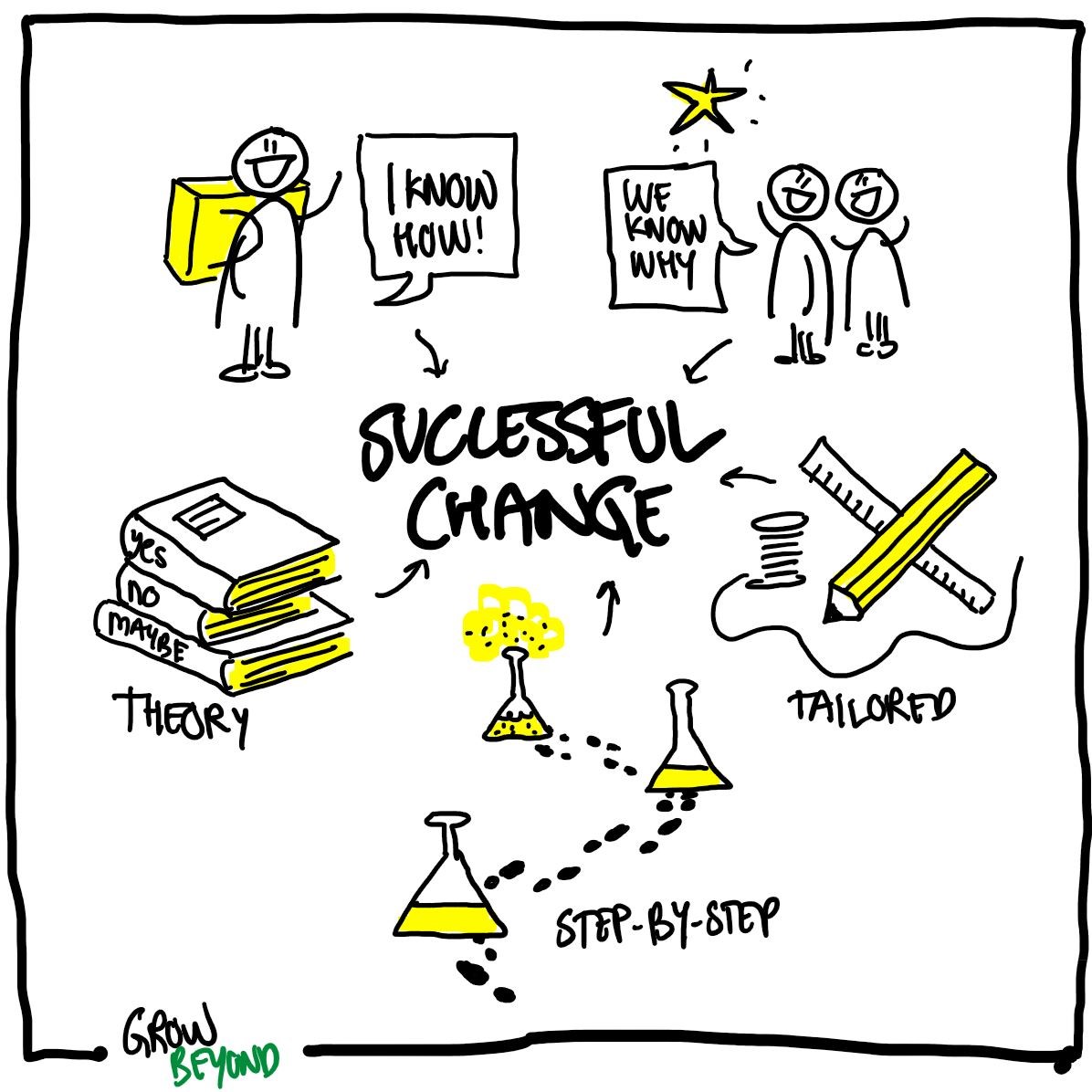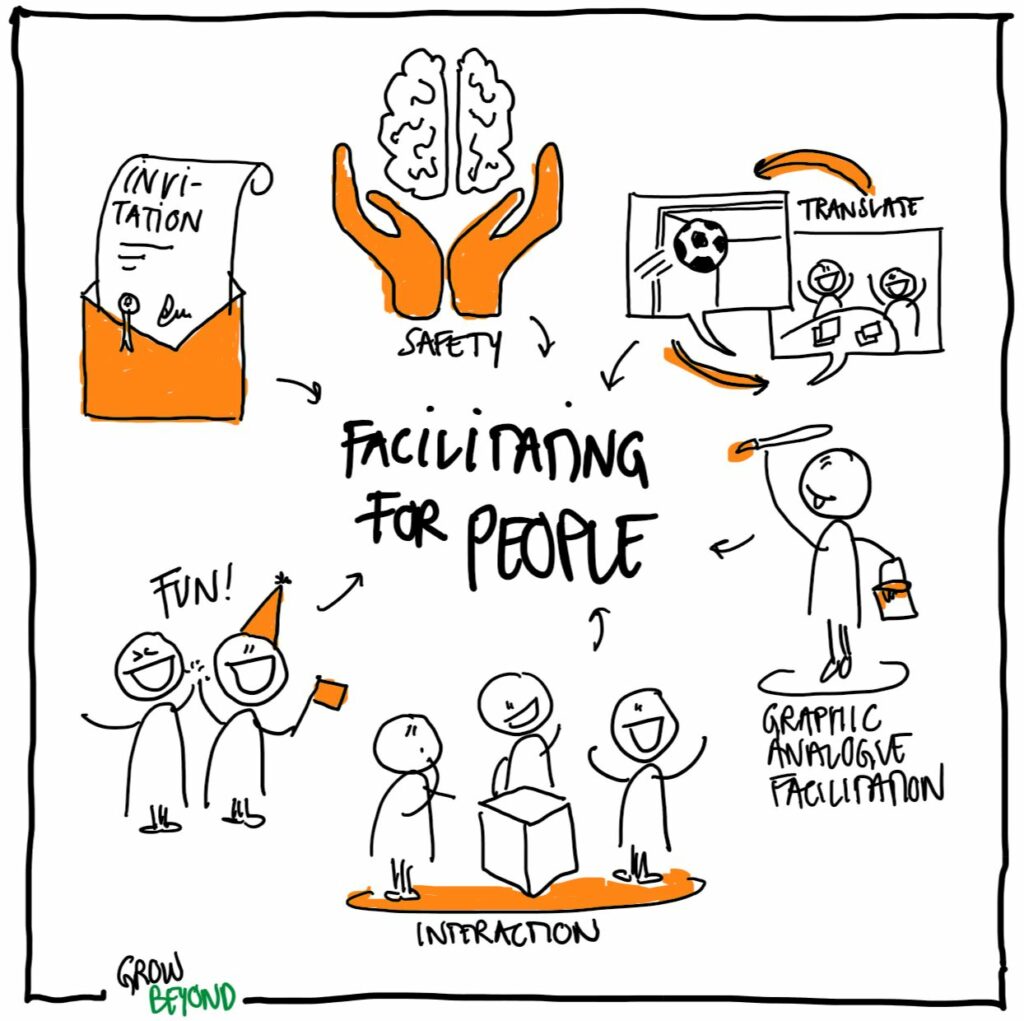 Facilitating change means designing the transformation for people:
A high level of interaction and exercises designed for engagement.
Graphic (analogue) facilitation.
Translation of learnings to participant's work-life.
Invitation to change.
Psychological safety.
Fun!
WHY YOU NEED GROW BEYOND
Facilitating change is a demanding task for leaders – on top of your already busy schedules. Engaging with us on a regular basis, you always have someone to mentor and coach you in the specific situation you are in.
Theoretical knowledge. You don't have to spend time on finding the literature and understanding the theory own your own. We have the knowledge ready at hand, we can provide you with additional information sources when needed, and we can contextualize it for and with you.
Practical experience. We have done this before, and we put this experience into play when we support you in designing your action plan, helping you to avoid the pitfalls that many other organizations have seen. This accelerates your process and increases the success rate of your actions.
Advice on implementation. You don't need to translate theoretical models to your context from scratch. We can provide you with practical examples of organizational models, role descriptions, operationalization of product definitions, processes etc.
Access to our network. We have formalized network groups that you are invited to join, where you meet up and exchange experiences and knowledge with leaders from other large Danish companies who are in the same situation as you. Furthermore, we can facilitate 1:1 ad hoc meetings with leaders outside our network to exchange knowledge on specific issues you find relevant.
Tailored training. We can provide training for your organization, tailored to your needs.